Counseling Private Practice Starting Expanding Consulting Coaching:
Are You Surviving or Thriving?
Welcome to Dasenbrook Consulting
Your Source For All That's Private Practice
Here you will find the latest practice information, products and services to answer that question, Are You Surviving or Thriving? Check out the Complete Guide to Private Practice and other practice building products, sign up for a live seminar (how about downtown Chicago in December?), see how coaching can help start or expand your practice, sign up for the newsletter so you can be informed of late breaking updates, FAQ and blogs, browse the resource page for support services and information, follow us on Facebook and Twitter. Let me help you.
The landscape of private practice for mental health professionals is ever changing. The thriving practice must adapt, change, and continue to redefine its relevance to clients and referral sources. For the mental health professional just starting, to the large group practice, thriving practices take risks and differentiate themselves from the competition.
– Norm Dasenbrook, MS, LCPC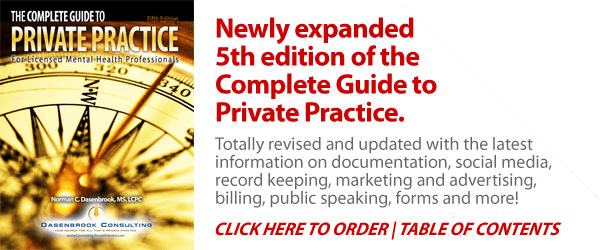 Dasenbrook Consulting specializes in the advancement of private practice for licensed mental health professionals.  I have over 30+ years experience in running my own successful private practice. Since 1999 I have lectured throughout the country, concentrating my efforts on teaching colleagues how they, too, can succeed and thrive in private practice. Be skeptical of consultants and websites that promise you, "three easy steps" or the "10 ways" to become a wealthy therapist. It's not easy. It's hard work. But what in life that's worthwhile isn't hard work? I have done it and you can too. Let me share with you what has worked for me and thousands of other successful therapists. For the licensed mental health professional, Dasenbrook Consulting provides practice building products and a free home for the latest practice information. No membership fees, dues or members only section. The website is funded by sales of our products and services. For State Associations, Dasenbrook Consulting can provide a variety of Keynotes, workshops and seminars.
Past State Mental Health Counselor Association President and Governing Council member of the Illinois Counseling Association.
Author of the leading private practice book.
30 years private practice experience.
17 years lecturing, consulting on private practice issues and practice development.
Maintain strategic relationships with print and web designers, billing and software vendors, attorneys and political action committees that keeps us up to date on the latest trends, niches and legislation that impact private practice.
Launched the American Counseling Association's Private Practice Initiative.
Consultant to the American Counseling Association on Private Practice 2005 – 2011
Member of American Counseling Association, American Mental Health Counselors Association, Illinois Counseling Association, and Illinois Mental Health Counseling Association.
Recipient of the Distinguished Service and Robert J. Nejeldo Leadership Awards.
Benefit from Latestest tips and Counseling Private Practice Information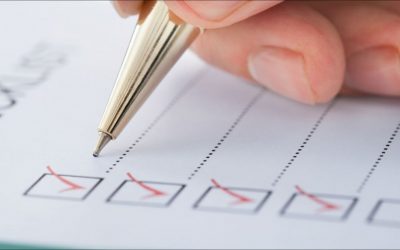 Private Practice Checklist Handout In my seminars and consulting I am always asked if I had a checklist mental health professionals could use to know what they need to consider in starting a start a successful private practice, so here it is! Private Practice ✓ ...

This section of website is totally free! No dues, membership fees or members only section! We want to share with our colleagues the latest practice information.  We are your home for all that's private practice! Let Norm Dasenbrook help you develop a thriving practice.

Want to differentiate and add value to your practice with multiple income streams? Check out our Practice Building Books, DVD, and Corporate Training Packages.
–
–

Since 1999 I have lectured throughout the country, concentrating my efforts on teaching colleagues how they, too, can succeed and thrive in private practice. See where I am speaking or have your state association contact me about availability.