LIVE INTERATCIVE WEBINARS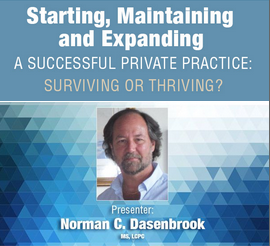 Presented by Dasenbrook Consulting in collaboration with the Illinois Mental Health Counselors Association.
10 CE's for counselors, social workers, and psychologists.

Live Interactive Webinar Friday–Saturday  September 17 & 18, 2021

Live Interactive Webinar  Friday-Saturday December 03 & 04, 2021
This webinar is the only 2-day live presentation available that will function as a group consultation. Most practice consultants charge $175.00 or more per hour.  For far less than the cost of two hours of consulting you get ten hours of consulting tailored to you and your practice! Also included is a 25 minute follow up private consultation with the presenter.
Participants comments included:
"This should be a required training for private practice."
"It was thorough, well organized, and inspiring!"
"I appreciated all the practical information and Norm's conviction that we can start private practice and be successful."
"Norm has a great sense of humor and is engaging in his presentations. He has great knowledge on how to start and run a private practice. He is a great motivator and gave us encouragement to take the risk of starting our own private practice."
"I liked the candid, can-do, positive, break it down approach to teaching what could have felt like an overwhelming topic."
"The wealth of valuable information, resources and support."
"Learning about the many options besides talk therapy to enhance income."
"Bought Norm's book and I believe the forms alone make the cost of the book worth it! Consider buying it. I got it the next day!!!"
Welcome to Dasenbrook Consulting. Your Source For All That's Private Practice
The landscape of private practice for mental health professionals is ever changing. The thriving practice must adapt, change, and continue to redefine its relevance to clients and referral sources. For the mental health professional just starting, to the large group practice, thriving practices take risks and differentiate themselves from the competition.
Here you will find the latest practice information, products and services to answer that question, Are You Surviving or Thriving? Check out the Complete Guide to Private Practice and other practice building products, sign up for a live seminar, see how coaching can help start or expand your practice, FAQ and blogs, browse the resource page for support services and information, follow us on Facebook at Dasenbrook Consulting and don't forget to sign up for the newsletter so you can be informed of late breaking updates. Let me help you.
– Norm Dasenbrook, MS, LCPC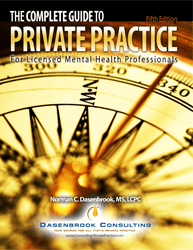 Newly Revised 2020 5th edition of the Complete Guide to Private Practice
Totally revised and updated 2020 with the latest information on documentation, social media, record keeping, marketing, and advertising, billing, public speaking, and more! Includes 2020 updated forms: informed consent, teletherapy, BAA and more! Also included is a Free ½ hour practice consultation with Norm when purchasing The Complete Guide. Time limited offer.
Free ½ hour practice consultation with purchase of the Complete Guide.
One-stop shopping for a successful private practice.
Dasenbrook Consulting specializes in the advancement of private practice for licensed mental health professionals. I have over 30+ years of experience in running my own successful private practice. Since 1999 I have lectured throughout the country, concentrating my efforts on teaching colleagues how they, too, can succeed and thrive in private practice.
Be skeptical of consultants and websites that promise you, "three easy steps" or the "10 ways" to become a wealthy therapist. It's not easy. It's hard work.
But what in life that's worthwhile isn't hard work? I have done it and you can too. Let me share with you what has worked for me and thousands of other successful therapists.
For the licensed mental health professional, Dasenbrook Consulting provides practice-building products and a free home for the latest practice information. No membership fees, dues or members only section. The website is funded by the sales of our products and services.
For State Associations, Dasenbrook Consulting can provide a variety of Keynotes, Signature Workshops and Breakout Seminars.
Author of the leading private practice book: The Complete Guide to Private Practice
Author of After 40 Years in Therapy What Have I Learned? Crysand Press 2017
40 years in the counseling field and 35 years private practice experience.
20 years lecturing, teaching, consulting on private practice issues and practice development.
Launched the American Counseling Association's Private Practice Initiative.
Consultant to the American Counseling Association on Private Practice 2005 – 2011
2018-2020 American Counseling Association Conference Private Practice Consultation Consultant
Past Illinois Mental Health Counselor Association President and Governing Council member of the Illinois Counseling Association
Helped thousands of licensed mental health professionals start or expand a successful private practice.
Member of the Insurance Task Force: Winner of the ACA Midwest Region 2016 Innovative Practice Award and ICA 2019 Outstanding Service Award
Member of American Counseling Association, American Mental Health Counselors Association, Illinois Counseling Association, and Illinois Mental Health Counseling Association.
Recipient of the Distinguished Service and Robert J. Nejeldo Leadership Awards.
Benefit from Latestest tips and Counseling Private Practice Information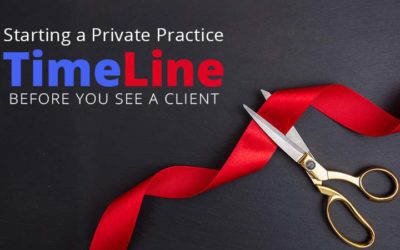 I am frequently asked about what to do and when to do it. So, I have developed a timeline on what to do before you see a client. Now Business/confidence Mindset: Successful therapists in private practice have confidence, believe in themselves and have adopted a...

This section of website is totally free! No dues, membership fees or members only section! We want to share with our colleagues the latest practice information.  We are your home for all that's private practice! Let Norm Dasenbrook help you develop a thriving practice.

Want to differentiate and add value to your practice with multiple income streams?
 Check out our Practice Building Books, DVD, and Corporate Training Packages.
–
–

Since 1999 I have lectured throughout the country, concentrating my efforts on teaching colleagues how they, too, can succeed and thrive in private practice. See where I am speaking or have your state association contact me about availability.