Live Seminar Dates & Locations
Essential Components of Starting & Expanding a Successful Private Practice: A Checklist
Webinar available now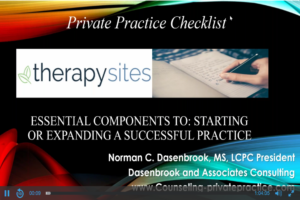 Come learn the essential practical components to starting or expanding a successful private practice. You need to have a business mindset and a plan to do well.  This no-nonsense webinar will present tried and true practice building strategies to begin a practice from the ground up or expand a limited practice. Do it right the first time.
Click on https://attendee.gotowebinar.com/recording/1494937089268623627
For handout click on https://counseling-privatepractice.com/private-practice-checklist-handout/
---
Private Practice Boot Camp 5 Day Intensive Training -29 CEs
September 11 - 15, 2019 Schaumburg, IL.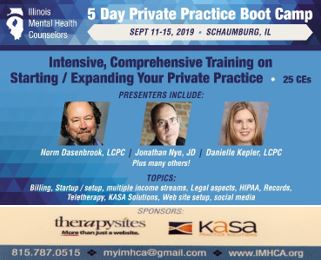 Find out what you can accomplish. Take the jump into being your own boss or expand to be someone else's boss!
Billing, startup/setup, multiple income streams, legal aspects, HIPAA, records, teletherapy, website setup social media, and so much more!
An array of talented experts will share information that will inspire you and get you started on the path to a successful practice.
Presenters: Norm Dasenbrook, MS, LCPC; Jonathan Nye, J.D. Attorney/Managing Partner; Danielle Kepler, LCPC; Joyce Marter, LCPC; Jennifer Froemel, LCPC; Alexander Hoerr, LCPC, and more!
Bonus features include:
Three webinars: Shifting Gears (1 hour), Subpoenas and Court orders (1 hour), Writing Treatment Plans (3 hours)
Post-boot camp private consultation with presenter and practice consultant Norm Dasenbrook. Attendees will be able to schedule a private 25-minute practice consultation to answer questions and implement practice building strategies. The consultation will occur by phone. Participants can email questions or areas of discussion prior to their scheduled consultation time. Participants may schedule a time when attending the workshop or later by phone up to one-year post workshop date. For more information or to register go to:
https://www.imhca.org/event-3382105
---
Starting, Maintaining, and Expanding a Successful Private Practice 1-day Workshop
November 18, 2019 | Chicago, IL.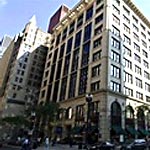 Starting, Maintaining, and Expanding a Successful Private Practice 1-day Workshop
Venue: DePaul Center, 1 E Jackson Boulevard, Suite 8002, Chicago IL 60604
Date: Monday, November 18, 2019
Time: 9:30am to 4:30pm
Event Registration Link: https://naswil.wufoo.com/forms/111819-starting-maintaining-depaul/
---
2 Day Workshop Presentation: Starting, Maintaining, and Expanding a Successful Private Practice (10 CEs)
December 07 & 08, 2019 | Northbrook, IL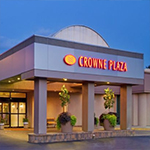 Starting, Maintaining, and Expanding a Successful Private Practice 10 CEs
9:00 AM - 3:00 PM (CST)
Location: Crowne Plaza Northbrook, 2875 Milwaukee Ave., Northbrook, IL 60062
To register go to https://www.imhca.org/event-2985872
---
Workshops provide for CEs (clock hours) through Continuing Education Licensure with IDFPR. LPC/LCPC Lics #159.000650, LSW/LCSW Lics #159.000650, LMFT Lics #168.000148 Psychologists Lics #268.000009. IMHCA is an NBCC-Approved Continuing Education Provider (ACEP) and may offer NBCC-Approved Clock Hours for events that meet NBCC requirements.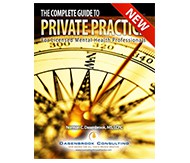 Order the Complete Guide to Private Practice and book a private, one on one ½ hour practice consultation with Norm. All for the same price as a live seminar.

Contact Information:
Norman C. Dasenbrook
5758 Elaine Dr. Suite B
Rockford, IL. 61108
Phone: 815-877-0399