Starting, Maintaining and Expanding a Successful Private Practice: Surviving or Thriving?
The landscape of private practice for mental health professionals is ever changing. The thriving practice must adapt, change, and continue to redefine its relevance to clients and referral sources. For the mental health professional just starting, to the large group practice, thriving practices take risks and differentiate themselves from the competition.
This 2-day private practice webinar or workshop is designed for the clinician who is planning to start a practice within the next year, or for those who have started a small practice and wish to expand. Given the 2-day format, participants will be able to explore more in depth the essential components of startup, business entities, money management, billing, office procedures, social media, public speaking, advertising and marketing that each participant needs to develop a plan to start or expand a practice with actionable steps with proven techniques. Get all your questions answered. Do it right the first time. Most small businesses fail in the first year. Don't let that be you.
Also included is a 25 minute follow up private consultation with the presenter.
A History of Success: Norm Dasenbrook, LCPC with IMHCA is the longest standing private practice workshop in the Midwest. He has 20+ years of helping mental health professionals launch and expand a successful private practice.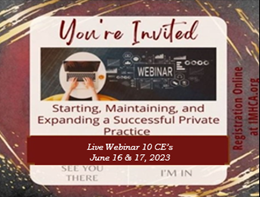 LIVE Online Webinar
(not recorded)
June 16 & 17, 2023
9:00 AM · 3:00 PM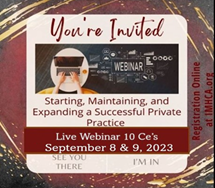 LIVE Online Webinar
(not recorded)
September 08 & 09, 2023
9:00 AM · 3:00 PM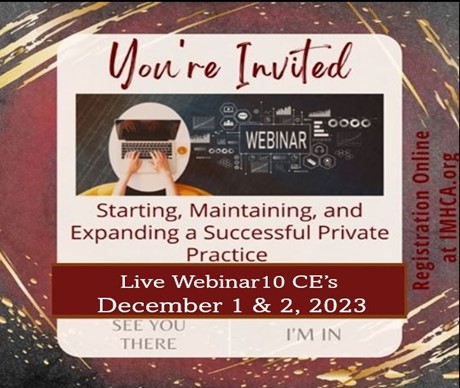 LIVE Online Webinar
(not recorded)
December 01 & 02, 2023
9:00 AM · 3:00 PM
See what workshop participants had to say…
"This should be a required training for private practice."
"It was thorough, well organized, and inspiring!"
"I appreciated all the practical information and Norm's conviction that we can start private   practice and be successful."
"Presenter was highly experienced and approachable."
"Learning about the business components and brainstorming other income revenues."
"The wealth of valuable information, resources and support."
"Learning about the many options besides talk therapy to enhance income."
"Bought Norm's book and I think the forms alone are worth the cost of the book."
This workshop is the only 2 day workshop available in the Midwest that will function as a group consultation. Most practice consultants charge $175.00 or more per hour.  For less than the cost of two hours of consulting you get ten hours of consulting tailored to you and your practice! Seating will be limited
Now, if you are a member of your state counseling association you may qualify for Illinois member price ($50.00 savings) for the webinar. Phone 815-787-0515 or email myimhca@gmail.com  for more details. Moreover, you get a FREE ½ consult with me post webinar! Pair this webinar with "The Complete Guide to Private Practice" What are you waiting for?
To register for the workshop or webinars go to www.imhca.org/private
Workshops provide for CEs (clock hours) through Continuing Education Licensure with IDFPR. LPC/LCPC Lics #159.000650, LSW/LCSW Lics #159.000650, LMFT Lics #168.000148 Psychologists Lics #268.000009. IMHCA is an NBCC-Approved Continuing Education Provider (ACEP) and may offer NBCC-Approved Clock Hours for events that meet NBCC requirements.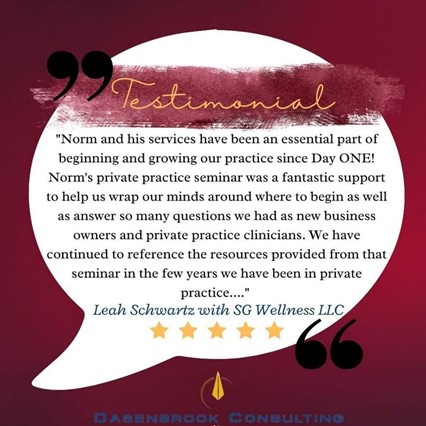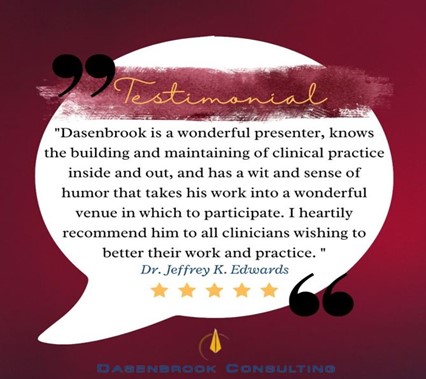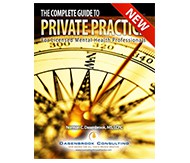 Order the Complete Guide to Private Practice and book a private, one on one ½ hour practice consultation with Norm. All for less than the price of a live seminar.
Contact Us