Seminar Agenda
Introduction
Making the shift to a business paradigm
Multiple income streams: other sources of revenue
Addressing business anxiety: going towards the roar
Motivation and confidence: value your product
Start Up and Practice Expansion
Eight step method for startup and increasing referrals
CAQH
Insurance, office space and other considerations
Contracts: independent contractor/employee
HIPAA basics
Business entities
Take insurance or not?
Content development
Apply counseling skills to business
Fees: setting and collecting
Finances, accounting, and money management
Telehealth
Break through to the next level
Office Procedures
Accessing clients to your practice
Documentation and electronic medical records (EMR)
Informed Consent – protect you and your client
Transfer Plan
Psychotherapy notes and clinical records
No Surprise Act
Office forms
Client and insurance billing options
Back door method for getting on closed panels
Marketing and Advertising
Marketing plan: a two-prong approach
Prospecting referral sources
Print material: what it communicates
Websites
Social media
Publishing
Public speaking, webinars, podcasts, and blogs
Cross-pollination of referral sources
I am writing to tell you Thank You!  I attended your workshop last December and am excited to inform you that I have successfully launched my solo practice this past April.  You have really inspired me to bring my dream to fruition. - Angela Solis, LCPC, CADC / Crossroads Counseling Services, LLC
Your program was so informative that since this time I have found a partner and I'm working in my own private practice.  At 27 years old, I am my own BOSS! Thank you so much for your program and insight. - Jodi Province MA, LPC, NCC / Lenoir, NC
I cannot overstate how invaluable the body of work has been to me over the years. After attending one of their workshops, I began to believe that I could open my own practice. After following Norm's advice and incorporating their methods, I began to thrive.  Recommend is too weak a word.  – Michael K. Pecosh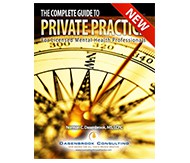 Order the Complete Guide to Private Practice and book a private, one on one ½ hour practice consultation with Norm. All for less than the price of a live seminar.
Contact Us
Live Seminar Dates & Locations
Essential Components of Starting & Expanding a Successful Private Practice: A Checklist
Webinar available now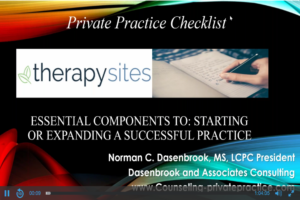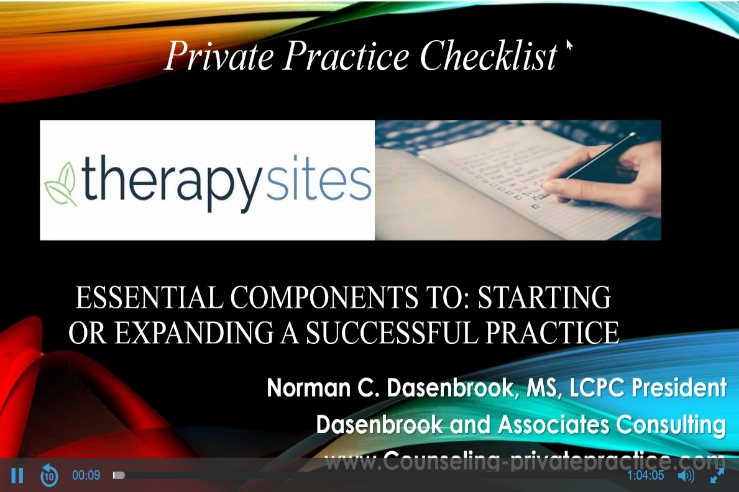 Come learn the essential practical components to starting or expanding a successful private practice. You need to have a business mindset and a plan to do well.  This no-nonsense webinar will present tried and true practice building strategies to begin a practice from the ground up or expand a limited practice. Do it right the first time.
Click on https://attendee.gotowebinar.com/recording/1494937089268623627
For handout click on https://counseling-privatepractice.com/private-practice-checklist-handout/