Seminar Agenda
Introduction
Making the shift to a business paradigm
Multiple income streams: other sources of revenue
Addressing business anxiety: going towards the roar
Motivation and confidence: value your product
Start Up and Practice Expansion
Eight step method for startup and increasing referrals
Insurance, office space and other considerations
Contracts: independent contractor/employee
HIPAA basics part 1
Business entities
Consulting
Presentation development and public speaking
Fees: setting and collecting
Finances, accounting and money management
Online counseling: teletherapy
Breaking through to the next level
Office Procedures
Accessing clients to your practice
Documentation and electronic medical records (EMR)
Informed Consent – protect you and your client
Transfer Plan
Psychotherapy notes and clinical records
HIPAA basics part 2
Client and insurance billing options
Back door method for getting on closed panels
Marketing and Advertising
Marketing plan: a two prong approach
Prospecting referral sources
Print material: what it communicates
Websites
Social media
Publishing
Niche marketing
Cross pollination of referral sources
I am writing to tell you Thank You!  I attended your workshop last December and am excited to inform you that I have successfully launched my solo practice this past April.  You have really inspired me to bring my dream to fruition. - Angela Solis, LCPC, CADC / Crossroads Counseling Services, LLC
Your program was so informative that since this time I have found a partner and I'm working in my own private practice.  At 27 years old, I am my own BOSS! Thank you so much for your program and insight. - Jodi Province MA, LPC, NCC / Lenoir, NC
I cannot overstate how invaluable the body of work has been to me over the years. After attending one of their workshops, I began to believe that I could open my own practice. After following Norm's advice and incorporating their methods, I began to thrive.  Recommend is too weak a word.  – Michael K. Pecosh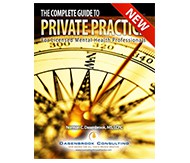 Order the Complete Guide to Private Practice and book a private, one on one ½ hour practice consultation with Norm. All for less than the price of a live seminar.
Contact Us
Live Seminar Dates & Locations
Essential Components of Starting & Expanding a Successful Private Practice: A Checklist
Webinar available now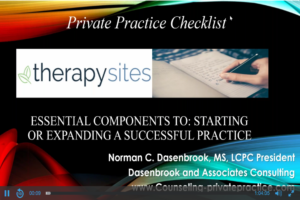 Come learn the essential practical components to starting or expanding a successful private practice. You need to have a business mindset and a plan to do well.  This no-nonsense webinar will present tried and true practice building strategies to begin a practice from the ground up or expand a limited practice. Do it right the first time.
Click on https://attendee.gotowebinar.com/recording/1494937089268623627
For handout click on https://counseling-privatepractice.com/private-practice-checklist-handout/
---
---
---
---
---
Workshops provide for CEs (clock hours) through Continuing Education Licensure with IDFPR. LPC/LCPC Lics #159.000650, LSW/LCSW Lics #159.000650, LMFT Lics #168.000148 Psychologists Lics #268.000009. IMHCA is an NBCC-Approved Continuing Education Provider (ACEP) and may offer NBCC-Approved Clock Hours for events that meet NBCC requirements.