Coaching and Consultation Services
Most new small businesses fail in the first year—don't let it be you!
Dasenbrook Consulting has been providing practice coaching and consultation services for over 20 years. Since 1999, Dasenbrook Consulting has helped launch thousands of new therapists into private practice and expand limited practices. Norm can save you thousands of dollars by not repeating the mistakes of others! Do it right the first time. Invest in yourself. Most successful therapists had a mentor or used coaching to traverse the private practice landscape. Coaching and consultation are available on a variety of topics, from how to start a practice on a shoestring to expanding your practice with multiple income streams.
STARTING OR EXPANDING A PRACTICE?
MARKETING AND ADVERTISING?
BUSINESS ENTITIES?
ACCEPT INSURANCE OR FEE FOR SERVICE?
ADDING MULTIPLE INCOME STREAMS?
BILLING?
INDEPENDENT CONTRACTORS OR EMPLOYEES?
FEE SETTING AND COLLECTION?
DOCUMENTATION?
Fees for practice consultation and coaching are $175 for a 50-minute session or three hours for $450.  The fee is prepaid by check or credit card. Consultation and coaching can be conducted by phone or email. Call 1-815-877-0399 or email info@counseling-privatepractice.com..
ONCE YOU CHECK OUT PLEASE CALL1-815-877-0399 TO SCHEDULE
Contact Information:
Norman C. Dasenbrook
5758 Elaine Dr. Suite B
Rockford, IL. 61108
Phone: 815-877-0399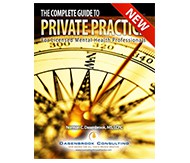 Order the Complete Guide to Private Practice and book a private, one on one ½ hour practice consultation with Norm. All for less than the price of a live seminar.