Counselor's Program Development Package
Only $124.99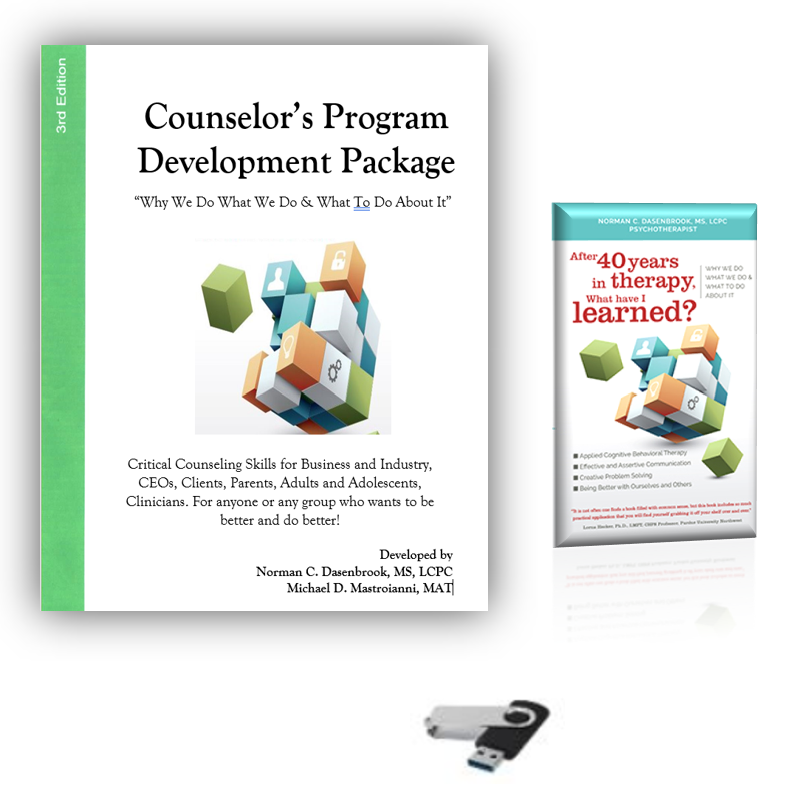 Counselor's Program Development Package
The "Counselor's Program Development Package" is a treasure trove of solid techniques, ideas, stories, metaphors, and advice that help people change their lives for the better! This package explains cognitive behavior therapy so others can apply it to their daily lives — be it regarding their marriage, family, or work relationships.
It presents great content on how to enhance relationships. Examples include self-esteem, relationships, work, love, parenting, conflict, ADHD, anger, and assertiveness. There is something for everyone in this package, and you will find a multitude of examples.
Those Counselors who would like to consult with business will also find this package helpful in training businesses how to understand and move past everyday work hurdles, promoting an open, change-oriented culture.
We have found that most of us, to be the best they can be with themselves and others, need three things.
First, we need a way to understand ourselves and others that's practical, observable, and measurable. Applied Cognitive Behavior Theory
Second, we need to communicate and listen better.  The positive and assertive communication techniques we have found and explained, will take communication skills to another level.
Third, we need different ways to solve problems that enhances our relationships with others. We have found mediation/problem solving techniques that can make even strained relationships better and good relationships great. 
Valuable Content
The package includes content that can be used with business and industry, individuals, couples, families, and mental health professionals to market practices. Content areas included:
Change Process: Going Through the Misery Zone
Why We Do What We Do: Applied Cognitive Behavioral Theory
Effective and Assertive Communication: The Leveling Process
Listening Skills: Empathetic, Active and Passive
Mediation/Problem-Solving Techniques: Positional vs. Needs Based Negotiations
Code of Conduct: Business and Family
Stay or Go: A Stress Model
Nuggets: Therapy techniques, analogies, metaphors, sayings, common sense pieces, quotes from others, problem solving and communication tips that we have found helpful in our work.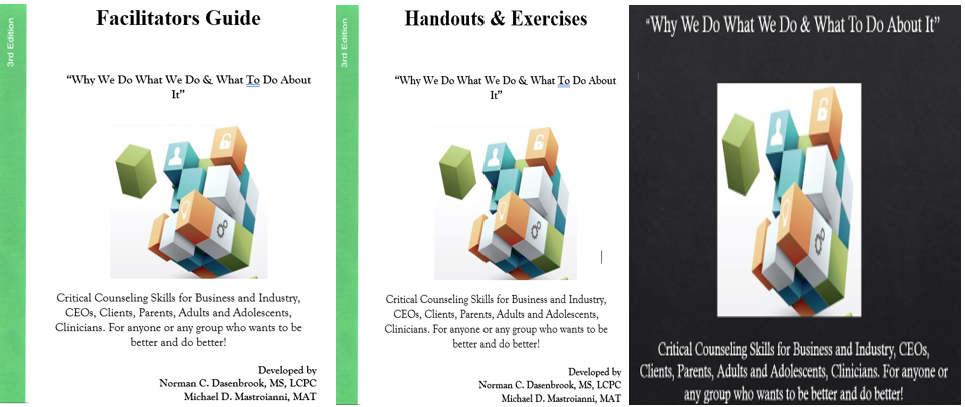 The Counselor's Program Development Package Includes:
The book, "After 40 Years in Therapy, What Have I learned?"
Videos for each content area: Applying Cognitive Behavioral Theory, Effective Communication, Group Problem Solving, Introduction and Change Management
Facilitators Guide: How to present material
Hand-out material and interactive (experiential) group exercises.
PowerPoint presentation.

As a bonus we have included:
USB with all the content for you to customize to your practice!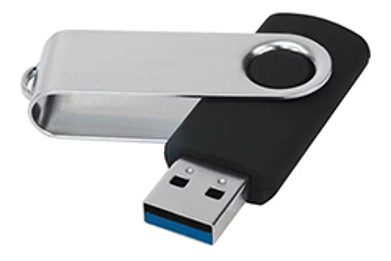 Get your Copy of the Counselor Program Development Package Today!
Only $124.99