"After 40 Years in Therapy What Have I Learned?"
Why We Do What We Do & What To Do About It
Musings of a Counselor
By Norm Dasenbrook, MS, LCPC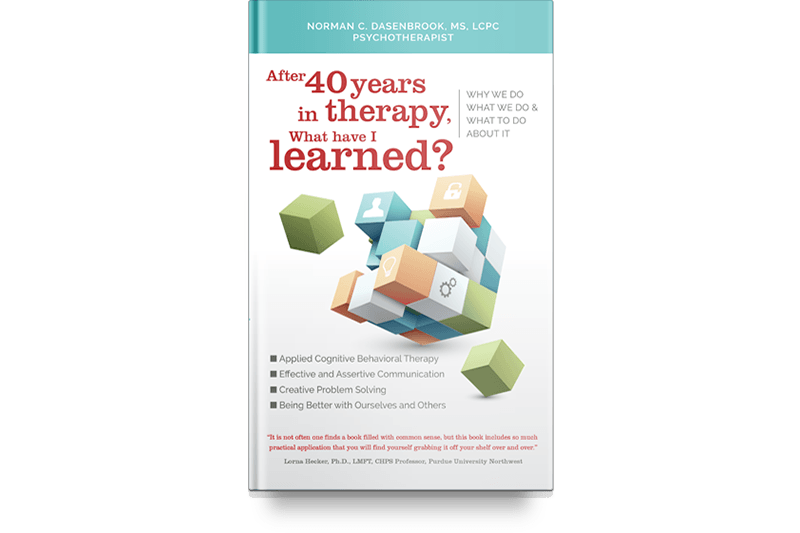 A humorous yet pointed keynote about treatment techniques and common sense learned in over 40 years of providing counseling services. Norm Dasenbrook's keynote presentation
After 40 Years in Therapy: What Have I learned?
is based on his latest book of the same title and has been reviewed as a treasure trove of solid techniques, ideas, stories, metaphors, and advice that has helped thousands of people change their lives for the better!
Whether you are a clinician, spouse, partner, parent, supervisor, CEO, teenager, or psychotherapy client, attendees will find Dasenbrook's multitude of examples extremely helpful to applying the material to life's problems and opportunities.  Those in business will also find this presentation helpful in understanding and moving past everyday work hurdles, promoting an open, change-oriented culture.
After 40 Years details Dasenbrook's three "things" he has found that people need to be the best they can be with themselves and others:
First, we need a way to understand ourselves and others that's practical, observable and measurable. This presentation explains cognitive behavior therapy in a way that is understandable to clients and how to apply it to our clients' daily lives—be it regarding marriage, family, or work relationships.
Second, we need to communicate and listen better. The positive and assertive communication techniques that are detailed will take communication skills to another level.
Third, we need different ways to solve problems that enhances our relationships with others. Mediation techniques are explained that can make even hostile relationships better and good relationships great.
In addition to the three major components, he has assembled his observations about what people, families and organizations go through in order to change.  They are called….

These "nuggets" are counseling skills, therapy techniques, analogies, metaphors, sayings, quotes from others, common sense pieces, problem solving and communication tips that I have found helpful in my work over the years. I would like to share them with you. Examples include self-esteem, relationships, work, love, parenting, conflict, depression, anxiety, ADHD, anger, assertiveness.
For a more little more of a preview Click Here for a Look Inside  "After 40 Years In Therapy What Have I Learned?"
When someone is in successful private practice for 35 years, you can't help but wonder what is the key to their success (and how can I get some?). The book is exactly that-the key to Norm's success! Reading this book teaches you a no-nonsense, practical guide to working with clients. I loved the "nuggets," specific little gems of advice that will stick with me. I thought (as you will) "now I am going to remember to use that…"